Electronica
National Science Week event 2001, developed 2000-2001

Jesse dreamt-up the Electronica program concept for the Powerhouse Museum's contribution to National Science Week 2001. Electronica looked at the science, technology and history of electronic and computer music through lectures, demonstrations, performances and hands-on experiences. Jesse led the team developing the program and obtained funding from the Department of Industry, Science and Resources for this six day long science week event. He also brought together fashion and technology by devising the Fashion parade of wearable music technologies and was successful in having the fashion media write about this science week activity.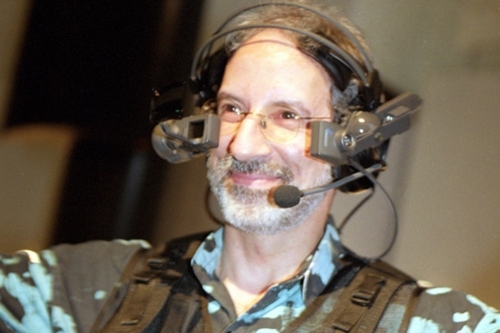 Image reproduced courtesy of the Powerhouse Museum, Sydney. Photo: Marinco Kojdanovski
In the photo, Jesse appeared as one of the models in his Fashion parade of wearable music technologies as part of the Electronica event. He is modelling a wearable computer with a head mounted display.